Young Adult, Science Fiction, Urban Fantasy
Date Published: April 13, 2021
Publisher: Acorn Publishing
Orion City has been on lockdown for ten years. Courtney Spencer, a disillusioned barista doomed to live a "normal" life in a quarantined fishbowl, is certain she'll never see over the Wall again. Until one rainy evening, Courtney unintentionally befriends W, an eccentric customer who leaves a switchblade in the tip jar. The unexpected acquaintance soon opens the door to a frightening string of questions that flips everything she knows upside down. Stumbling into a world of secrets, lies, and disturbing truths, Courtney grapples with a burning temptation to look again at the Wall. Surrounded by citizens trained to ignore its looming shadow, Courtney no longer can. Intrigued and terrified to expand her world, Courtney finds herself toeing a knife's edge between the law and justice, learning quickly that the two are not always compatible. She wants to cling to her morals. She also wants to stay alive. But most of all, she wants to see a certain customer again, despite everything in her whispering W is dangerous. In a gritty urban clash of hope and fear, passion and survival, The Walls of Orion explores the edges of light, dark, and the gray in between.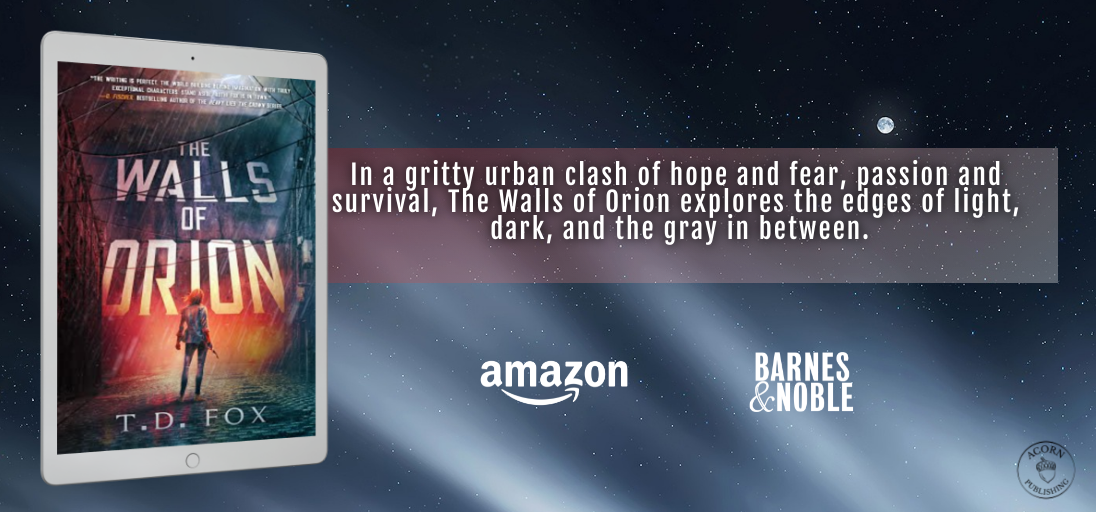 EXCERPT
"Hey," she called again. "We're closed. I'm going to have to ask you to leave."
He didn't make any sign that he'd heard. Courtney took another step forward. A deck of cards lay scattered over the table, white faces sharp and crisp in the shadow. At first she thought he was playing solitaire, but she noticed half the cards appeared to be cut in half. Diagonal slashes from corner to corner, oblong triangles and half grinning faces of Jacks and Queens. 
"You're bored."
Courtney blinked at the soft voice. "Sorry?"
W didn't look up, just took a handful of half-cards in his hands and shuffled. She was impressed he could do so with such deft precision, given the weird shapes. 
"Bor-ed. You know, weary, restless, your little world holds nothing of interest. The repetition, the grind, marching toward that same paycheck every week. You're over it."
She stared at the mangled cards. "What are you—"
"Wake up. Eat cereal. Work your tail off for eight dollars in tips. Come home to an empty hole in the wall. Pass out and repeat. Sound familiar?"
Something prickled at the back of her neck. He flipped a card onto the table. A three of hearts, with two of the hearts cut out. 
"I really have to close up," she tried again.
W looked up then. Leaning forward, he laced his fingers under his chin and peered up at her. "Got somewhere to be?"
She opened her mouth, but a picture of her silent apartment filled her mind. Shadows slinking through the tiny space, the stars in the window blacked out behind the Wall. The breath slid out of her lungs without a sound.
W motioned to the bench across from him. Without really deciding, Courtney found herself moving. She sank into the booth. Just for a minute. Her knees ached from standing all day. All week.
"Two minutes." She nodded at the cards. "What are you playing?"
"It's called Life." He glanced up at her. "Wanna learn?"
"Does it work with all those broken cards?"
W laughed. "Darlin', it only works with broken cards."
He started dealing. As she watched, a little voice in the back of her mind asked what the hell she was doing. He explained the rules of the game, and she found herself distracted by the way his face changed as he spoke. He was a very expressive person. But nothing quite seemed to touch his eyes. Frowns, smiles, laughs. Those pale eyes stayed the same. At first she'd thought they were gray, but now she could see a faint swirl of color inside them. She couldn't decide if it was icy blue or green. 
In this light, he looked younger than she'd initially figured. The sharp skin-on-bones angles stole some of the youth from his face, but she noticed a boyishness in the crooked grin that startled her. He probably wasn't more than a handful of years her senior, mid to late twenties maybe. The contrast of dark hair and pale eyes made the edged features more striking, not quite handsome, but something close.  
He went silent, and she realized with flushed cheeks that she'd been staring. 
"My, my, kiddo, you really are bored." 
Defensive felt better than embarrassed. "Who're you calling kiddo?" She leaned back. "And you keep saying I'm bored. You don't know me."
"I know your eyes. They're the reason I became a regular in the first place."
"What do you mean?"
He peered at her over the cards. "Your eyes. They're restless. Not something you see every day in this city. You want more."
"More of what?"
He leaned back, a small smile playing about his lips. "You tell me."
Clearing her throat, Courtney sat back in her seat and picked her own intrusive question. "Why W?"
"It's the most inconvenient letter to say." 
"No, I mean—why just the initial? You never give your real name."
"Who's to say it's not real?" He glanced down. "C suits you better than your nametag. An initial has infinite potential. You could be anything. Not ordinary, not a repeat label your parents picked out of a baby book. The possibilities are limitless." 
Again, he'd steered the conversation off an uncomfortable edge. Courtney nodded to the deck of cards. "You were teaching me how to play."
W chuckled, and Courtney couldn't decide if the sound was pleasant or unsettling. She paid close attention to the way he laid out the cards, whole and broken pieces alike. Some looked like the other halves of cards cut in two. Others seemed to have no corresponding piece. She wondered if they were all from the same deck.
He dealt, and she did her best to play along. A steady current of doubt hummed beneath her thoughts. She glanced up at the clock above W's head, at the minute hand ticking past closing time. Why couldn't she bring herself to get up and leave? 
Courtney figured out pretty quickly that the rules of this game made no sense to her. Every time she thought she'd gotten it down, something changed. Maybe W was messing with her. Was Life even a real game? Matt was right, he was kind of a loon, as he proved more and more throughout the course of their interaction. 
"Y'know, C." He shuffled the cards again, dealing out a different number than last time. Which was a different number than the time before that. Courtney really didn't get this game. She was starting to think there was nothing to get at all. "I mean absolutely no offense. But I can't help but notice you're a little crazy."
Courtney looked up, choking on a laugh. "Me?"
"Mm-hm."
"Why?"
"Because you're still here."
"You're the one who invited me to play cards," she started.
"Nah, not here with me. I mean here."
She waited. "I think I'm following this conversation as much as the game."
"Surrounded by crazy people. Working a crazy job, in a crazy city, waiting for the next crazy thing to happen and hoping it doesn't happen to you."
A prickle ran up her spine. "You're talking about the news this morning."
"Something happened this morning?" The cards shuffled through his long fingers with a magician's flair. "Don't watch the news much."
She frowned at him. "I suppose that's one way to survive in this town."
"Who wants to survive? I quit surviving ages ago. You should quit, too. What a boring habit." 
Courtney stared. "More of a basic instinct, I think."
"No. Our instinct is to live." The cards fluttered with a rippling swoosh. "These big four Walls can make a body forget that, though."
About the Author
A world-romper from the Pacific Northwest who quite enjoys the label "crazy," T.D. Fox supplements a hyperactive imagination with real life shenanigans to add pizzazz to her storytelling endeavors.
Armed with a bachelor's degree in Intercultural Studies, her favorite stories to write usually involve a clash of worldviews, an unflinching reevaluation of one's own internal compass, and an embrace of the compelling unease that arises when vastly different worlds collide.
When not recklessly exploring inner-city alleyways during midnight thunderstorms in the States, she can be found exploring rainforests without enough bug spray somewhere along the equator.
Contact Links
Facebook: T.D. Fox
Twitter: @TDFoxAuthor
Instagram: @TDFoxAuthor
Purchase Link