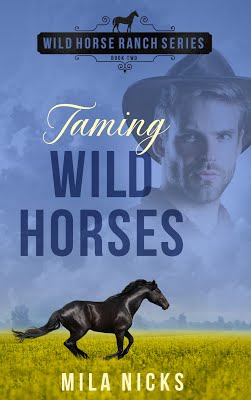 Book 2 of Wild Horse Ranch Series
Contemporary Romance

Date Published: January 29th, 2021
Excerpt 
Samara opened her eyes to spot Reed across the room.
But he wasn't approaching her to give an update as she had hoped. He was headed for the door marked Exit with a lighter and pack of cigarettes in his hand. Samara followed him.
"What's going on?" She came up from behind at a fast stride and stopped in front of him for the opportunity to glare. "How are you out here smoking when Gramps—"
"You handle stress your way. I'll handle it my way." Reed lit up, one hand cupped around the side of his mouth as the other lit the cigarette. He spent a second inhaling, closing his eyes as if savoring the feel, touch, and taste, and then blew smoke. "Gramps had a stroke. The doctors are still with him. It's not looking good."
"What does that mean—not looking good?"
"It means what it sounds like it means. It means the docs haven't told me shit. Nothing but vague pleasantries," snapped Reed. Irritation was scribbled on his face, his skin unusually pale with splotchy red on his cheeks. "So here I am—out here trying to keep a hold on my sanity. Might want to think next time you jump to conclusions."
Samara frowned, her glare softening. "Sorry. I shouldn't've… It wasn't my… I'll go."
She had no clue where she was headed as she turned and moved toward the nearby parking lot, but far away from Reed seemed like a good idea. For once not because he'd pissed her off or disgusted her; for once because she'd been wrong about him. Reed was worried about his grandpa and she felt like shit for thinking anything different. 
A hand enclosed around her elbow and held her back from taking more than a couple of steps. Reed had reached out and grabbed her to keep her from leaving. When she glanced at him from over her shoulder, another look she had never seen from him was on his face. His brows were knitted and he had a sober expression on his mouth, his eyes pinning hers. 
"Gramps would want you here. You should stay."
"Gramps is unconscious right now."
"Then I want you here," he said. He hadn't let go of her arm. "Remember all that 'bout getting through this together? I meant it."
Samara slowly nodded, unable to think of anything to say, an odd buzzing in her ears. Reed seemed to know what she needed to calm her nerves. He held up his half-full pack of cigarettes and she obliged, taking one and lighting up.