YA Fantasy
Date Published: 3/17/21
Publisher: Winter Goose Publishing
Fifteen-year-old Monte moves to the mystically jeopardized Highlands of Scotland and discovers that life as a Celtic wizard is anything but easy. Whisperings of abnormal enchantments and vicious cat siths grip the small town he now calls home. Fear is at the helm and the instigator is unknown. An indefinite moratorium on magic is enforced. In a race against darkness, Monte and his friends must choose who to trust before time runs out, even if it means breaking some rules and facing danger head on.
EXCERPT
"Besides," Garrick continued. "What else am I supposed to do? There's not a lot of potential to
make hard and fast friends here, seeing as we're the only Mystics around."
"You could play with those madger thingies," Monte suggested, as though he were the big
brother, not Garrick. He squinted at the line of firs across the field.
"And when would I ever need night-vision goggles?" Garrick asked. "That's all they are.
They're rudimentary."
"Rudimentary?" Monte could never keep up with Garrick's fancy words.
"Primal . . . basic . . . old," Garrick rattled off.
His rant was interrupted by a loud whoop. The shout crossed through the field—a teenage battle
call—as a pale, springy kid scurried out from the firs.
"Finn?" Monte asked. "It's Finn Cornelius!"
Finn sprung through the jungle of grass like a nymph, fear plastered across his face, pursued by a
posse of very large high school-aged boys.
"Hey!" Garrick tore toward the group. "Get away from him!"
Monte raced after his brother. A dark blur flashed in his peripheries, knocking him to the ground.
Dull lights, like distant stars, mottled his vision as he tumbled to a stop in the muddy grass. A
girl with scraggly black hair and bronzy skin stood above him. "Cameron?" He scrambled to his
Feet.
Cameron's stare met his, her caramel eyes familiar and intense. The rainbow lights hung around
her neck, much dimmer than Monte remembered.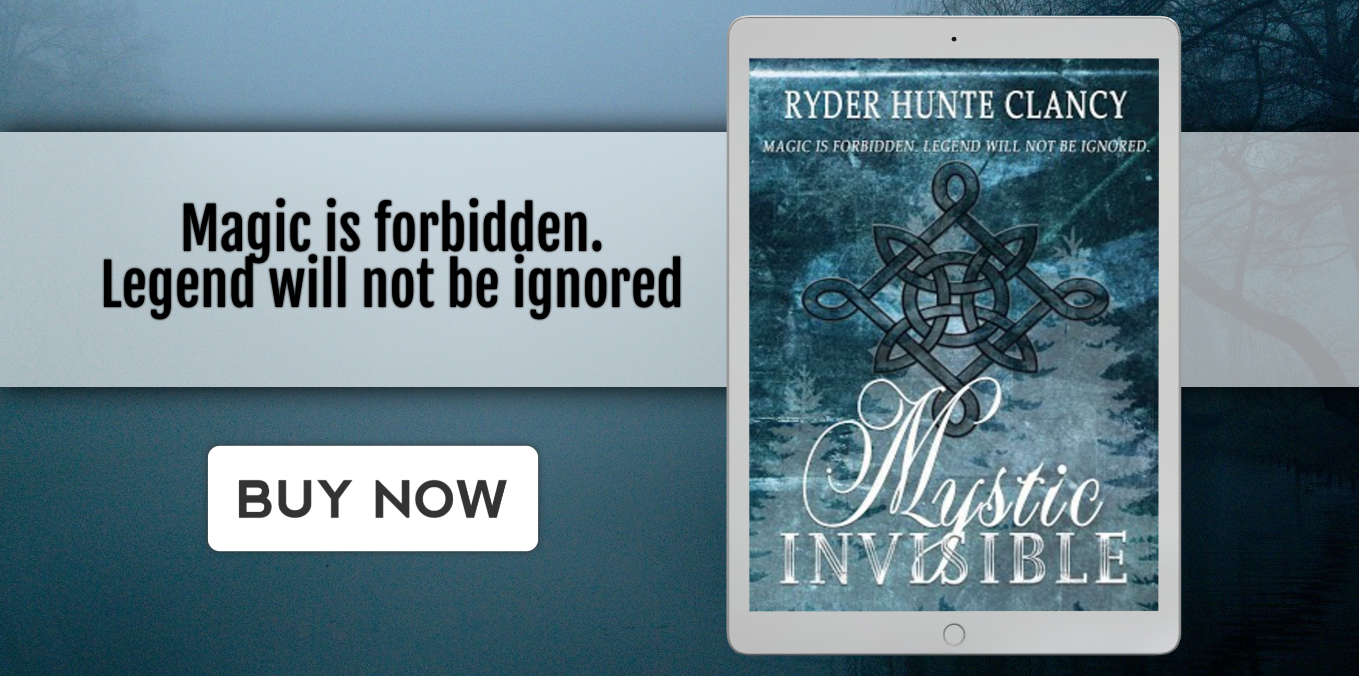 About The Author

Ryder Hunte Clancy has lived most of her life in the desert but her heart belongs to the sea; her happy place, where brine and mist abound and allusive waves caress expansive stretches of compacted sand. A tried and true stay-at-home mom, she is often found scribbling notes between diaper changes or connecting plot points while everyone else sleeps. She survives off of toddler snacks like apple slices and cheese, and has just as much trouble keeping up with her fictional, teenage characters as she does her three small children. Mystic Invisible is her debut novel, the inspiration of which was gleaned from her husband's homeland of Scotland, where fantasy, mystery, and folklore are rich and hits of adventure linger around every corner.
Contact Links
Instagram (@ryderhclancyauthor)
Purchase Links