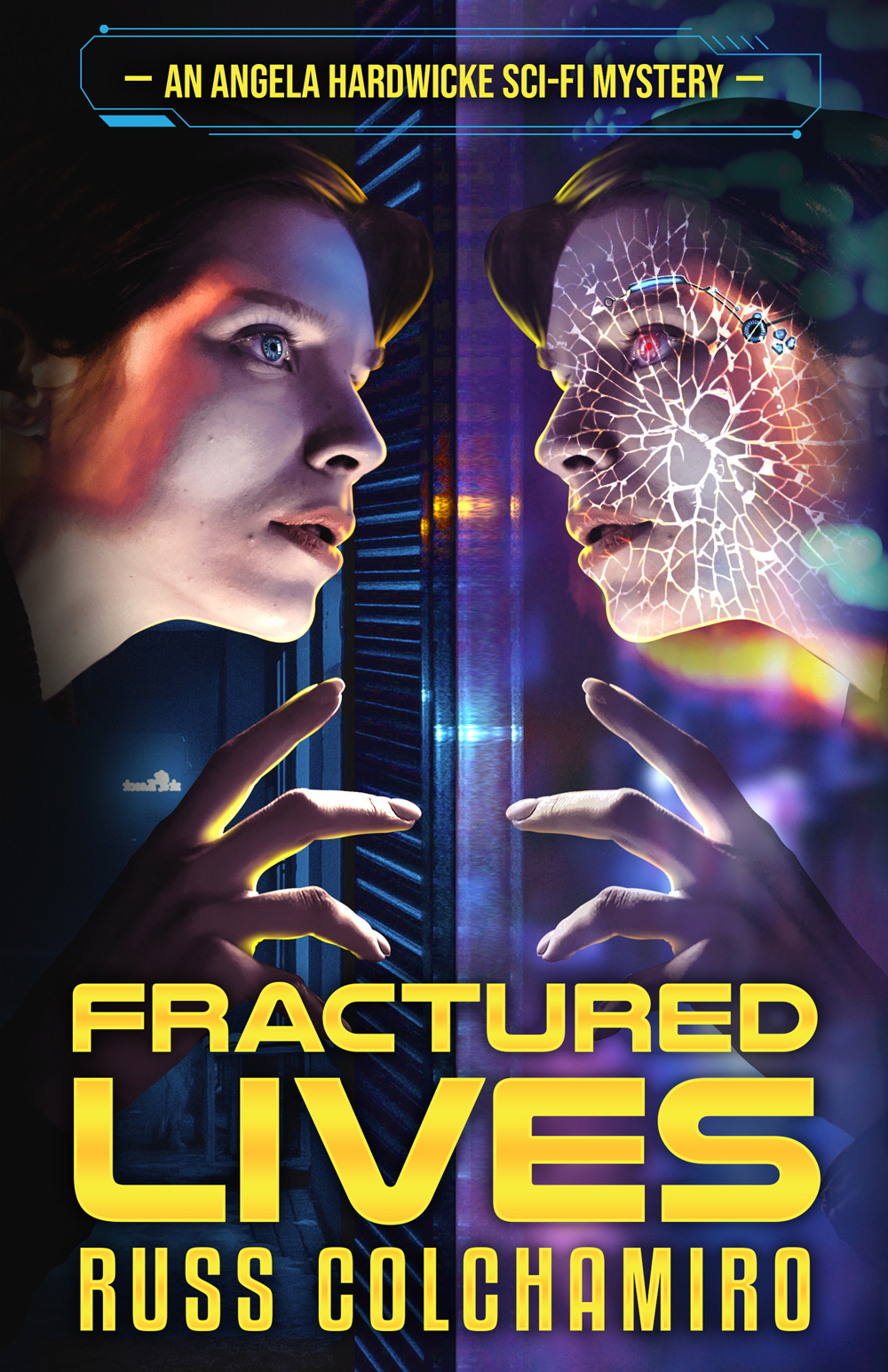 The Angela Hardwicke Mysteries Book 2
Sci-Fi Mystery

Date Published: Sept 2021
Publisher: Crazy 8 Press
In the cosmic realm of Eternity, there's only one private eye to hire
when your world gets turned inside out—Angela Hardwicke.
Darla Fyne, a college freshman and galaxy design savant, is suffering from
a nervous breakdown—or is she the victim of an urban legend known as
the Scarlet Raj?
As Hardwicke follows the intersecting worlds of art galleries, college
dorms, and a semi-secret clan that patches up tears in the Universe, her
investigation will either uncover a hoax gone wrong or a plot that could
shift the balance of power across the entire realm. If only she can fight
through her own paranoia to tell the difference.
In Russ Colchamiro's new Sci-Fi mystery Fractured Lives, Angela
Hardwicke is confronted by a PI's worst nightmare—dark secrets
from her past.
EXCERPT
Chapter 1
When you're a private eye like me, working cases in Eternity—the cosmic realm responsible for the design, creation, and maintenance of the Universe—you never know where the investigation will take you. On-realm… or off.
As a kid, ask me what I wanted to be, and it was nothing like what my life is now. Me, little Angela Hardwicke? A private eye? Yeah, right. Too afraid to speak up, too afraid to take action? I don't recognize that little girl. I'm sure she wouldn't recognize me either. Only… maybe that's not even true. Nobody's all one thing, all one way. 
Moment to moment we might be living any number of personalities and sometimes all at once. There's the shy me, the loud me, the silly me, the naughty me. The forgiving me. The merciless me. Mother, daughter, lover, friend. Enemy. 
The private investigator who skulks through back alleys and seedy bars, the one who investigates android murders, shapeshifters, disfigured wormholes, alternate dimensions, and a miles-long helix of the Universe's DNA.
We're told that the Minders of the Universe—the beings who oversee the Cosmos—want us to accept that, as Eternitarians, we're all just stardust in living form. That we are the Universe and the Universe is us and all the existential wank that comes with it.
Yet the multitude of forces of that very Universe and all of its imperfections condition us to deny our desperate, raging contradictions, our mystifying inconsistencies that can drive us stark raving mad if we let them. 
Who among us can claim with certitude that the person we reveal to others at any one moment in time and space is the unconditional and multi-layered person we actually are? 
Not me. 
Which is why, when Wanda Fyne knocked on my office door and told me she needed my help to find her eighteen-year-old daughter—Darla, a college freshman—I was skeptical, but kept an open mind. 
I've worked my share of runaway cases. Sometimes I find the kid, sometimes not. And in cases when the poor kid turns up dead, beaten… or worse… the parents almost wish they'd never had me look in the first place. 
Then again, who am I, of all people, to deny any parent their right to hope and dream for a joyful outcome, as unrealistic as it might be? Look what happened to me. My son Owen was lost to me… and then he came back. Maybe better than when he left. I'm telling you… it never happens that way. Never ever. Until it does.
"Mrs. Fyne, I don't want to downplay your concern," I say, and immediately spot her own inconsistencies. "A missing child can be scary business. Believe me, I know."
Late thirties, early forties, Wanda Fyne is a lovely woman, light brown skin with golden undertones, cocaine-white teeth, and raised, glowing cheekbones. She met me here in her showcase outfit—white, satin blouse and beige knee-length skirt, peep toe ankle strap sandals, beautifully manicured nails with eggshell gloss—and her handbag is designer all the way.
But her pearl earrings are fake. Excellent fakes, but fakes nonetheless. And her bob haircut, which is quite flattering, is fresh, as if she had it done specifically for this meeting. 
Even though I spend countless hours mired in physical, emotional, psychological, and cosmological filth, it doesn't mean I'm not a woman underneath it all. I appreciate wanting to look your best in front of a stranger
As a private eye I used to go all pinstripes, sharp angles, and fedora, but I've shifted my approach. Maybe it's my renewed sense of motherhood, maybe it was just time, but now my standard gear is blue jeans, black sneakers, and arugula-colored utility jacket with inner mesh lining that's stylish and flexible enough for my needs. 
And with all the changes in E-Town lately—standard combustion engine and electric cars slowly being converted into hover vehicles, a realm-wide Monorail coming online, new android models being introduced—it's difficult not to focus on your appearance more than ever. It's an element of your life you can control. 
If that's the case with Wanda, then she's gone to great lengths to advertise the kind of woman she wants me to think she is. Her way of communicating that she wants very much for me to take her seriously, that her daughter has legitimately run away, but fears I'll reject those claims because Wanda's been rejected before and can't bear to be turned away again. 
"But at eighteen," I say, "Darla's legally an adult. So even if she's missing, if her whereabouts are unknown to you, technically… she's not a runaway. Have you filed a police report?"
Sitting knees together, hands folded atop her purse, Wanda Fyne's mind is swirling. She has that look, as if she's debating how much to share with me, and how she should do it, afraid to say the words out loud, but desperate for help.
To the side of us is a circular table with various files, receipts, maps, notepads, holomessages, and new VR goggles. Behind Wanda is the door to my second-floor office, my name stencilled in black letters on frosted glass: Angela Hardwicke, Private Investigations.
"I," she finally says, her voice unsteady, "we… my husband and I, we're… Darla's been…"
Wanda's holding her breath, her chest tight, to the point I'm afraid she might pass out. 
"When was the last time you saw her?" 
Through pursed lips, she exhales. Though her makeup is impeccable, no amount of blush can hide the weariness behind her eyes. "About three weeks ago."
"Does she live at home?"
"No, I'm sorry. I should've said. She lives on campus."
"Which one?"
"The Wrolen School of Celestial Design. She used to come home every week or so, but lately…"
Celestial design. Missing teen. Complicated from the start.
"I'm sorry if this comes across the wrong way, Mrs. Fyne, but if I got paid for every college kid—freshmen in particular—that didn't call home on a regular basis, I could afford my own galaxy cruiser. Does she travel throughout the realm? College kids are big on road trips."
Wanda reaches into her purse for a tissue. She dabs at the corner of her left eye. "No," she says. "I don't know. But her suitemate said she's been on campus."
"I'm sorry," I say, confused. "I thought you said she was missing."
"She is, Miss Hardwicke. In every way that matters. It's just… you have no idea what it's like. Darla, she was such a… and now she's…"
When you've been halfway across the Cosmos and back, when you've seen the kinds of chaos and existential madness that can befall… someone… anyone… even an entire galaxy, ripping apart the fabric of time, space, and dimension, those experiences are imprinted on your soul. And yet deciphering the mechanics of the Universe is easy peasy lemon squeezy compared with the mystery of teenage girls. I know. I used to be one. 
"I don't know what you're asking me, Mrs. Fyne. If Darla's at school, there's no one to find."
"It's not a missing person," she clarifies. Dusty sunlight filters through drawn window shades, crawling along the hardwood floor. "It's a robbery. A theft. A desecration."
"What theft?"
Wanda Fyne comports herself, her eyes cold and hardened and brimming with a pain. 
"Someone's stolen a piece of Darla's soul. And I need you to get it back."
About the Author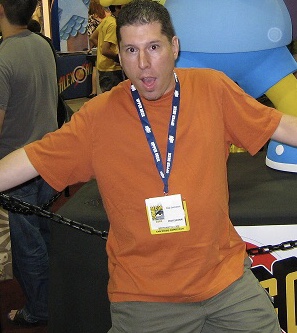 Russ Colchamiro is author of the Sci-Fi mystery Crackle and Fire the first
novel in his ongoing series featuring intergalactic private eye Angela
Hardwicke. Russ is also the author of the rollicking time travel/space
adventure, Crossline, the SF/F backpacking comedy series Finders Keepers:
The Definitive Edition, Genius de Milo, and Astropalooza, is editor of the
Sci-Fi mystery anthology Love, Murder & Mayhem, and co-author of the
noir anthology Murder in Montague Falls.
Russ has also contributed to several other anthologies, including Tales of
the Crimson Keep, Pangaea, Altered States of the Union, Agents of the Abyss,
Camelot 13, TV Gods 2, They Keep Killing Glenn, Thrilling Adventure Yarns,
Camelot 13, Footprints in the Stars, Devilish and Divine, Badass Moms, and
Brave New Girls.
Russ is a member of the Mystery Writers Association and Crazy 8 Press, and
hosts Russ's Rockin' Rollercoaster podcast, where he interviews
best-selling and up-and-coming scifi, fantasy, crime, mystery, and horror
authors.
For more on and Russ's books and his podcast, you can visit
www.russcolchamiro.com, and follow him on Facebook, as well as Twitter and
Instagram @AuthorDudeRuss.
He lives in New Jersey with his wife, two ninjas, and black lab,
Jinx.
Contact Links
Facebook: Russ Colchamiro
Twitter: @AuthorDudeRuss
Instagram: @AuthorDudeRuss
Purchase Link