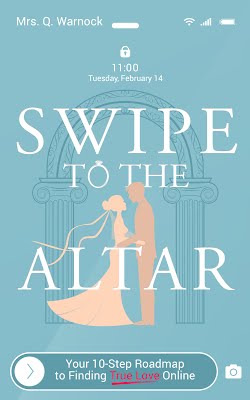 Swipe to The Altar: Your 10-Step Roadmap to Finding True Love Online
Non-fiction/self help
Date Published: 8/3/2020
It's so easy to fall in love, but hard to find someone who will catch you.
Let me guess – you're a beautiful and intelligent girl, but so far, you
haven't got much luck finding true love. This book will show you how to find
your true love from online dating. You will no longer be the Instant Noodle
and your love life will be transformed forever.
Excerpt 
Introduction
Where did all the single, straight, and emotionally available guys go? In 2019, 45 percent of the US population, or around 148 million people, were single. We don't know exactly what the percentage is for single and emotionally available men, but it isn't zero. Why does it seem unfeasible to have one of them as your boyfriend?
Dating seems to be a Mission Impossible for women nowadays. Online dating is supposed to make it easier, but in reality, you either don't meet up after chatting all week or it turns out later that he isn't interested in anything more than one night. Dating experts have written countless books and made numerous videos on the topic, but either the advice is too hard to apply in real life, or it's not specific enough and not broad enough to cover all aspects of online dating.
The good news is that this book can take you by the hand and teach you how to walk every single step in online dating; from downloading the correct app to making him eager to be your boyfriend when you are ready. You will learn how to create a magnetic online profile and spot the right guy to go out with. You will discover the foolproof way to get him hooked past the third date, and I promise you it's not what you have in mind. You will develop the powerful mindset that guys find absolutely irresistible and know what to say word for word in undesirable circumstances. When you are ready for marriage, this book will reveal the unspoken truth of how to get the proposal you always wanted, and how to really become the bride, rather than stuck as an eternal fiancée.
I had always been the most single girl I know and never thought I would get married one day to an amazing guy. Guys I liked were either gay, had girlfriends, or they were not interested in me. The few guys that did approach me to ask me out were either ugly, boring, or players. I went to a speed dating event in summer of 2014 and encountered more awkward and weird men than ever before. They just weren't what I was looking for. I ended up talking to other female participants about how terrible the event was and turned it into a career informational interview in the end. My friend introduced me to online dating, so I gave it a try five years ago at the end of 2014.
I went on more dates than I can remember. After seeing enough players, casual daters, and people that were nothing like what they claimed to be, eventually I met this guy that I thought was finally going somewhere. He ended up breaking up my heart. Now that I look back, he was full of red flags screaming at me, trying to show me that he wasn't remotely the guy I thought he was. I simply couldn't or wouldn't see those red flags.
After 41 first dates, I finally met the guy that later became my husband. I am so glad he was the 42nd, because if he showed up before I found the correct way to go about online dating, I would have missed him. I went on those 42 first dates during more than two years' time and learned the keys to online dating the hard way.
I learned all of these lessons and wrote this book so you don't have to learn the hard way. If you want to get married one day, but find it nearly impossible to find a boyfriend in real life, this book is for you. If you have thought about trying online dating but don't know where to start, this book is for you. If you are back in the dating field after a divorce or have already tried online dating, but aren't getting the desired results you deserve, this book is for you. This book is the last one you need to read before you say, "I guess online dating just isn't for me."
I am going to tell you the brutal truth. Does your online profile need an update? Are you not attracting high-quality matches? I can help you navigate the world of online dating, translate the language of communicating with someone online, and help you realize your worth. There are a lot of pitfalls in trying to get to know a person online or long distance. This book will help you recognize mixed signals, understand the best methods for meeting in person, and give you the tools to approach online dating with confidence and boldness.
If online dating is completely new to you, I assure you that if you follow each step and approach it exactly the way I have outlined, you will be going out with guys that you find attractive. If you have already tried online dating and they seemed to only be interested in texting you, I promise that they will ask you out if you follow my methods. If you stopped using online dating because you always end up with the guy that is emotionally unavailable, I assure you that you will find it substantially easier to spot "players."
However, if you are completely reluctant to meet with strangers at all, this book is not for you. If you are curious what online dating is about but you're not looking for anything serious here, this book isn't for you. If you are not resilient enough to be OK with encountering failure and keep going, this book isn't for you. If you are not a go-getter and hope you can do nothing and your future husband will find you, this book isn't for you. If you expect online dating to be easy and aren't willing to put in the extra effort to follow my guidelines, this book isn't for you.
In fact, don't read this book unless you are interested in having an amazing boyfriend and ultimately get married to the love of your life. Following the steps and using the text message suggestions in the book will make guys fall for you, so please only use them if you are ready to start a serious relationship.
Don't be the girl that dreams about meeting the love of her life but doesn't do anything about it. Be the girl that grabs this book now, downloads the right app tonight, and goes on the first date by this Friday. Be the girl that has friends who tell you "Your boyfriend is so sweet! I can't believe you met him online." Be the girl that walks down the aisle toward the love of her life in front of family and friends.
Are you ready to start now and find your new love as soon as possible, or are you going to let uncertainty and fear hold you back? Are you going to show up to holiday parties with your new boyfriend by the end of the year, or are you going to regret not taking action earlier? Are you going to be happily married in five years to someone you meet online after reading this book, or are you going to lie on the bed, waking up in the middle of the night, wishing you did something different years from now? It is your choice.
Overview: Myths About Online Dating
Who Is Online Dating For?
You've probably seen her. She is one of those women who always look fabulous and are effortlessly surrounded by good quality guys. They barely remain single for long, if at all. Are you one of them?
I'm not. I always felt shy around guys, especially handsome ones. If I saw anyone in my everyday life that I would love to go on a date with, it was always a fierce battle in my mind to get the nerve to go up and talk to him. These brief encounters usually ended the moment his girlfriend came back from the bathroom or he left before I had the courage to go up to him. Even when I finally got the balls to approach and talk to a guy, I got all nervous. Before I knew it, I was once again awkwardly mumbling nonsense so cringeworthy that if I thought about it later, I would want to dig a hole and bury my head in it. My only option of dating was with guys that approached me first, and most of the time, I wasn't attracted to them. When I started a new job and really got to meet many new guys, nothing happened between us more than saying "Hi" to each other in the hallway.
All of my friends either had a boyfriend or were taking a break from dating. I was always the most single person. I just wanted to date someone I liked! Of course, I wanted a boyfriend and eventually a husband, but I couldn't even date attractive guys. In my daily life, I didn't know if guys were into me or if they were even looking for a relationship at all. I spent so many nights googling "where to meet single guys." I went to happy hours and meetup groups. Wherever I went, I always found myself surrounded by girls. I made a lot of girlfriends but wasn't going anywhere in terms of dating. I was only 23 years old and my parents were already setting me up with guys! I was stuck in a harsh and embarrassing dilemma: I wasn't attracted to most guys that approached me or asked me out, while guys that I found attractive were either gay, had girlfriends, or they were never approachable. I tried all the pick-up lines and nothing worked.
If you were nodding along while reading and can relate to my experiences, online dating is for you. It's so much easier to meet new guys online that are available and attractive. Not all of them are really single, like they claim to be, but online dating opens up a bigger selection of potential boyfriends that are only a swipe away. Also, in the world of online dating, most guys approach girls first once they are matched. Responding to a potential suitor's message online is much easier than approaching them face-to-face in real life.
Isn't Online Dating Only for Hookups?
Maybe online dating wasn't the right place to look for something serious twenty years ago, however, an increasing number of people are looking for love online. According to a 2016 research study done by Pew Research, "41 percent of Americans know someone who uses online dating and 29 percent know someone who has met a spouse or long-term partner via online dating." It is especially true if you live in a big city. Admittedly, a good number of online daters look for nothing more than a night, but it is up to you to screen them out. With my techniques, you can avoid dealing with people looking only for hookups.
Is There a Stigma with Online Dating?
Who cares? If that's a concern, you can stay away from one of the best tools in the current dating world because of other peoples' opinions and remain single as a result. Or, you get over it and find your true love online. Your goal is to increase your chances of finding love, and online dating is a powerful tool to make it happen faster. If you really want a relationship, you are going to find it. All the couples I know that met through online dating are proud that it is different from the old boring "we met in a bar" or "we went to college together." Have some fun with the fact that you are adventurous and that you are unique!
Is Online Dating Safe?
The world of online dating is just a small part of the whole world that we live in. There are safe aspects and shady alleys that can be dangerous to the untrained. Watch out for yourself, use my guidelines, and keep in mind that scammers take advantage of people online, just like in other places in our real life. Be smart and you will be fine.
What Is the Magic Number?
How many first dates do you need to go on before meeting the love of your life? Really, finding "the one" doesn't mean there is only one person that can eventually be your husband. Although you will only have one husband, that doesn't mean only one person has the potential to be marriage material. You are looking for someone that you love and loves you, someone that meets your requirements as your future husband, and someone that is in the phase of his life where he is ready for a committed relationship that ultimately leads to marriage. Far more than one person can be "the one," and online dating is going to substantially accelerate the process of meeting your potential future husband.
It took me 42 first dates to meet my husband. I wanted to quit after I went on three first dates because I thought that third guy "broke my heart." Now that I think about it, he was just a normal guy loaded with obvious red flags and I was attaching too much emotional investment to first dates. Unfortunately, I simply couldn't read the warning signs. I wanted to quit again after I went on seven first dates. This time because all the guys I ended up matching with were not really attractive to me and I couldn't get any good-looking guy to swipe right on me. After changing my picture and self-introduction on dating platforms with my friends' help, I started getting matched with guys I was attracted to and really began to enjoy the process. However, happy days didn't last long.
I met the ninth person, we hit it off, and he actually did break my heart tremendously. It took me a month to start going on dates again, and it took me a year to get over him. I stopped doing everything I enjoyed and spent as much time as possible trying to meet guys and go on dates. All I wanted was to find someone like him. The next six first dates I went on were all disappointing. It seemed impossible to meet any guy who was decent both online and in real life. I wanted someone who was attractive both physically and personality-wise, and who also wanted a real relationship. Was that too much to ask?
During that time, I went to Philadelphia with my friend and stayed in an Airbnb. The host couple were in their 40s and they met online. I blurted out, "No way! You are so lucky! I've already gone on enough dates and it's not going anywhere. Clearly online dating isn't for me." Only then did she tell me that he was her 45th first date. After learning that I had only been on ten or so first dates, she told me to keep going. To this day, I am super thankful for her because I knew I would definitely have given up without hearing her story.
I decided to keep going. I made a deal with myself to go on 45 first dates before stopping. I knew I wanted a boyfriend. In fact, I wanted to get married one day. I knew I deserved it. However, things went contrary to my wishes and my dating situation got worse and worse. One day I realized that my life was miserable, and I was depressed. I asked myself: If it took me ten years to find a boyfriend, would I be willing to spend ten years of my life being miserable? 
That moment was a game changer. I started prioritizing my happiness over the anxiety to find a boyfriend ASAP. I started doing things that I put off when I was too busy going on dates. I picked up my hobbies and focused on self-improvement. I spent at least an hour working out every day, six days a week. I picked up Erhu, also called Chinese Violin, which was the instrument I grew up playing. This even led to me being invited to perform on various occasions. I also continued making videos for my YouTube channel.
Instead of spending so much time on dating apps, I only swiped and responded to messages and texts with the fragmented time I had. When I went on first dates, I focused on just staying positive and having a good time, instead of constantly wondering whether this person could be a possible boyfriend. Interestingly enough, more guys than ever were suddenly waiting to go out with me, partly because of how interesting I sounded, how full my personal life was, and how hard it was to secure a date with me. I was finally getting the hang of how online dating should be done! Almost magically, I was also meeting more high-quality guys in real life who asked me out after a casual conversation, which had never happened before.
Eventually I met my husband on the 42nd first date. So, was 42 the magic number? Not really. It wasn't the number that made a difference. It was because I had transformed into the charming version of myself that was happily busy with my single life and knew how to interact with guys the right way from the beginning. He happened to have appeared at the perfect time. There is no fixed number of first dates guaranteed to meet someone special. The number is going to be different for everyone and it is meaningless to give yourself a limit or wait for a certain number to hit. You should pay attention to every single detail in the roadmap I'm about to unveil and follow every single step. Forget the number.
Recap
Online dating is for you if it's hard for you to find guys to date from real life.

29 percent of Americans know someone who has met a spouse or long-term partner via online dating.

Online dating doesn't need to be stigmatized. It is a powerful tool to expand your chances of finding love faster.

Online dating is a part of our world that has both safe and dangerous aspects.

The magic number is different for everyone and it is meaningless waiting for the number to hit.
About the Author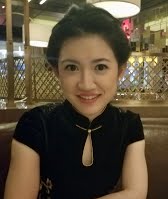 Mrs. Q. Warnock, the former Miss Qianlei Li, started her online dating
journey in 2014 and found the love of her life at the end of 2016. She has
gone on 42 first dates and has got her heart broken multiple times before
realizing the right way to go about online dating. She now lives happily
with her husband in Northern Virginia.
Contact Links
Purchase Links