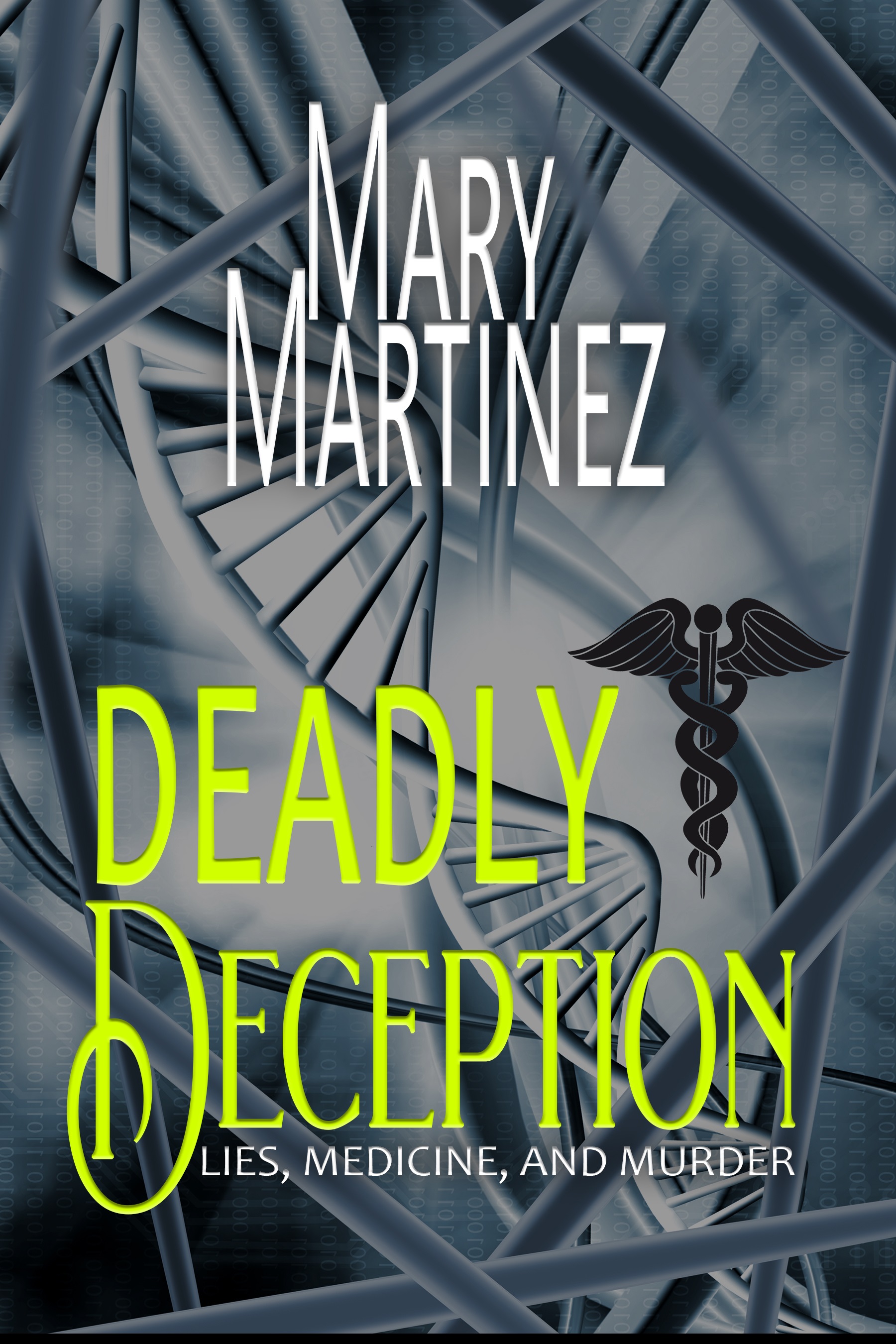 Suspense
Date Published: 06-01-2022
A blink of an eye. That's all it took for her life to change forever.
After two years, Marcie Faraday still doesn't believe the crash that
took her family was an accident. She is determined to find the answers, even
if the truth puts her in danger.
Detectives Booker Dixson and Lashelle Valentine must deliver the news to
Jonas Faraday's widow which is the worst part of their job. Neither
believes it should have been ruled an accident.
Booker and Lashelle uncover a connection between Marcie's late
husband and her father's medical clinical trial. Coincidence or ploy?
Booker Dixson does not believe in coincidence.
Deadly Deception is a thrilling journey to uncover the secrets that
threaten to shatter the perfect picture of Marcie and her family.

EXCERPT
Chapter One 
Jonas Faraday approached the traffic light with care. After all, he had the most precious cargo in the world strapped in next to him, his daughter Tori, his pride and joy. He turned sideways to look at her. It was then he noticed the bright red car weaving all over the road. He looked at the intersection, the light was green. He turned his attention to the car, his eyes widened. 
Without a thought, he slung his arm across the front of his eight-year-old daughter while he moved his foot to the brake. He should never have let Tori sit in the front. He'd had no time for an argument, now he was paying for his lack of judgment. 
Nothing, the brake pedal went to the floor. He pumped it a few times. 
Using both feet he stomped as hard as he could. 
Nothing. 
"No!" His shout filled the car. 
Tori turned her head. "Dad stop, that car is going to hit us. Dad…" 
His stomach did a quick summersault. He swallowed. A quick glimpse to the side told him the car was right on a course toward them. 
Everything slowed. His arm pressed tighter on his daughter, snapshots of his life flashed through his mind; Marcie holding Tori as a newborn, Tori's first birthday, first step, and first dance recital. All thoughts vanished when he 
brought his daughter into focus. She gazed at him with hope. Then she turned toward her window. 
He watched in horror as his SUV entered the intersection at the same time as the vehicle. He wanted to cover his ears to stop the sound of his daughter's scream mixed with the hard sound of grinding metal as the red car slammed into the passenger door. 
Time went into overdrive as the car went airborne. The twisted steel, once a car that carried himself and his daughter, turned in the air with the weightlessness of a soaring ballerina. 
He gulped as he tried to keep his gaze on his daughter. She bounced. A shriek rattled around the car to match the echo in his head. 
Her belt did nothing to restrain her body. The car sprung from the asphalt, the jolt so hard his arm was flung from his daughter. 
His body flew with the momentum of the aerial acrobats of the vehicle. 
Thrown forward, the steering wheel punched into his stomach. His gaze jerked up as the roof met with the pavement. 
"Tori!" 
His ragged voice was the last sound he heard before a bright flash, searing pain, and then darkness. 
About the Author
Mary lives in Magna, a little town west of Salt Lake City, Utah. Together
with her husband, she has six grown children, six wonderful grandsons, and
five beautiful granddaughters. She loves to spend time with family and
friends–she includes good books as friends!
Mary and her husband love to travel, especially to the Caribbean for
relaxing, and Italy for the wine. And most recently she discovered she was
Irish and Scottish, of course, they had to visit Ireland and Scotland. Mary
fell in love with both, but the green hills of Ireland felt like home.
With the experience from the exotic places she has visited, she is able to
fill her books with colorful descriptions of cities, painting a colorful
backdrop for her characters. One of her favorite US destinations is New
York/Brooklyn, where her beloved Beckett's live. When she visits, she can
wander their neighborhoods, favorite parks, and visit their favorite pub,
Putnum's.
They are avid concert 'Ho's'! Yes, they pretty much want
to do them all. They love outdoor amphitheaters the best and attend as many
during the warmer months as possible.
Mary writes mostly romantic suspense, romance, women's fiction, and she has
just begun to dabble in young adult mystery.  During her writing career
she has been a conference coordinator, workshop presenter, and chapter
president for the Utah Chapter of RWA. In 2007 she was presented with the
Utah RWA service award in acknowledgment and appreciation for outstanding
service. Mary has participated in numerous library panels on writing and
co-presented a workshop on writing a series at the League of Utah Writers
conference. She was awarded the 2021 N. N. Light Book Award winner for best
book in two categories; Four Sisters for Women's fiction and Celtic Myst by
M. L. Foxx for Fantasy.
Mary also writes as ML Foxx. This is her first jaunt into Fantasy and
Sci-Fi, she loves it. It gives her freedom of choice.  In her ML
persona she also loves to go to the movies and you got it… Watch the
Avengers, Dead Pool, among others. Something her hubby doesn't really enjoy
but humors her fantasy side. You'll see more books soon…
Mary and her husband are also enthusiastic college football fans. They have
season tickets to the UTES, University of Utah Football and they tailgate
every game. They love tailgating so much, that they were married at a
tailgating in 1999.
GO UTES!
Contact Links
Purchase Links