Journey of Enlightenment
Leadership / Self development
Published Date: August 24, 2021
Publisher: Elite Online Publishing
Despite a life of challenges—from childhood illness to witnessing violence as a youth on the tough streets of uptown New Orleans, falling into the trap of drugs as a teen, and assaults on his confidence as an adult—Roynell Young is living his life's purpose.
Walking in the Shadow of Footsteps takes readers on an emotional journey through the life of an unlikely hero who earned his way into the National Football League as a first-round draft pick, enjoyed a nine-year career as a professional athlete, then carved a pathway that led him to create an organization that today impacts thousands in the impoverished Sunnyside area of Houston. Driven by an unquenchable desire to discover his life's purpose, Young learned that true power and freedom are the result of an unshakable commitment to live his purpose and spread the good news to the underdog. His unique story is his love letter to humanity.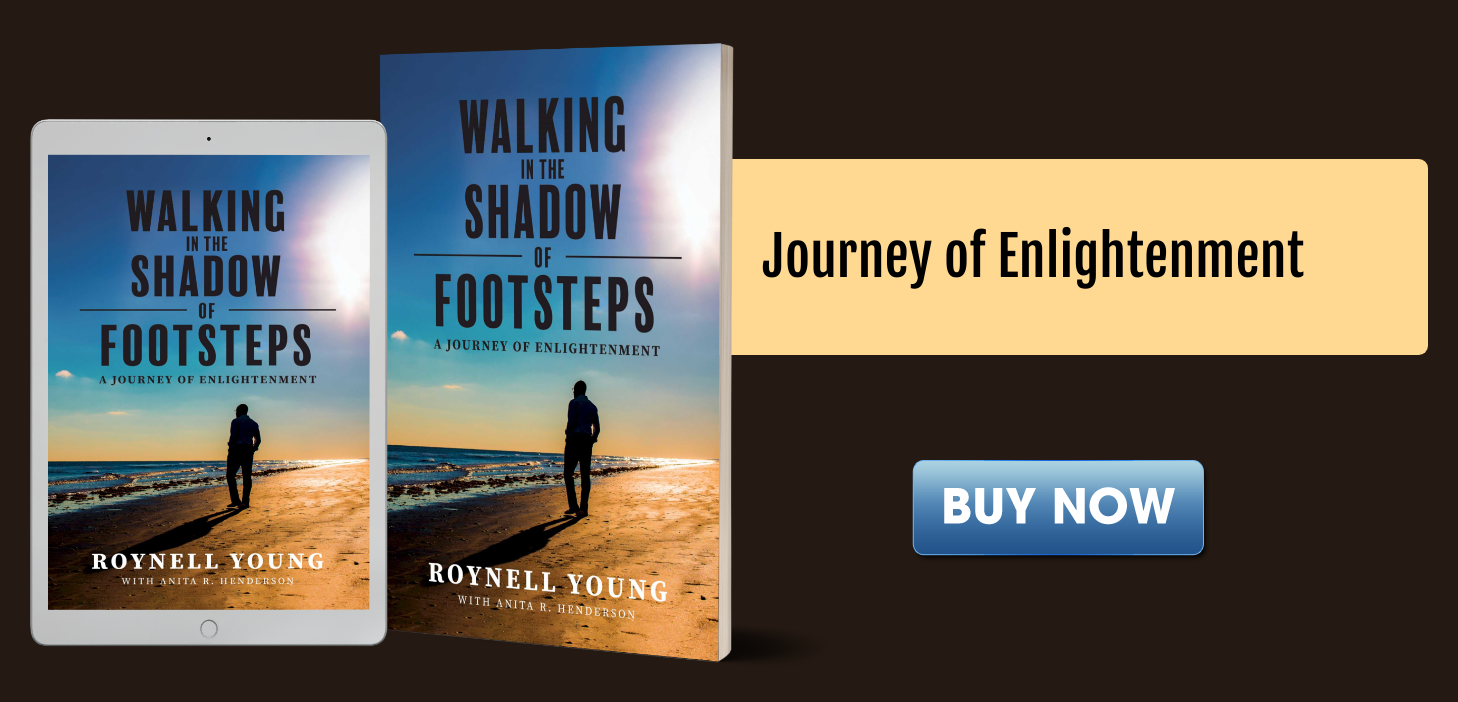 Preface 
My clock was ticking faster than I realized. Death was imminent. So blinded was I by my determination to finish my fourteenth marathon that I mistook the tightness in my chest as an ill-fitting T-shirt. In 2004, more than a decade after retiring from a nine-year career in the NFL, I ran what became my last marathon. I had taken up running as a way to de-stress. Turns out, it almost kil ed me. 
I had hit the mythical twenty-mile wal that all marathoners know about, when my shirt suddenly felt like it was crushing my chest and torso. The cool January morning air in Houston did little to ease the discomfort, but I finished the race. After finding the courage to tel my wife what was going on with me, I found myself sitting in the doctor's office. Although I did not suffer a heart attack, tests revealed that my left anterior descending artery was ninety-seven percent blocked, a condition commonly known as the widow maker. Thankful y, my Creator knew my work here was unfinished. From that moment, my lifelong tendency to show up smal and play it safe melted away and 
catapulted me with unwavering certainty towards a future I was being led to create, not for myself, but for humanity. 

Marathon 2009 
Up to that point I had been running from my dark past towards a future I thought had been predetermined to bring light to others through me, an unlikely messenger. I have been the underdog most of my life—from suffering with tuberculosis as a kid to being rejected by my middle school football team—
but I found ways to deal with it. What I learned from failure and rejection is that they're just part of the process that leads to success. There is a parable in the Bible that I relate to—the parable of the prodigal son. It's a testament to my life journey, but more important, it is a tale about a life of redemption. In my case, that redemption has resulted in my gratitude for having a second chance. 
Each life has a coding that gets revealed over time. At some point, you develop the need to understand your reason for being. Asking, "Why do I exist and what exists beyond the world we know?" consistently throughout your life has the amazing result of leading you to discover your purpose during your time here on Earth. It is not enough to know what your purpose is; you have to use that knowledge because your purpose is inextricably linked to your vision for the future, and that vision defines your success. 
My life has been a series of events you wouldn't think would be experienced in the lifetime of a kid who, until age eighteen, rarely ventured outside of my four-block neighborhood in uptown New Orleans, Louisiana. I witnessed all kinds of nefarious activity as a kid, most of it involving violence, which was far too prevalent in my young life. I knew it was bad, yet I was drawn to it, curious about what it could do for me, unafraid of the consequences. I thought I could handle it all and would always be in the winner's seat. I reasoned that my street smarts and my buddies would get me through any situation. I knew the elders within my tight-knit family expected the best of me. They tried to shelter me from the foolishness of the streets as best they could. But stil , I fel into the hole. On the one hand, I was a good kid from a decent and respected family. On the other hand, I yearned for the dark, greedy side. That dual existence put me on the road to destruction and caused my parents more headaches than I'll ever know. 
Most of us have only about twenty years of childhood and adolescence before we are considered adults. I lived most of those early years in total darkness. I felt abandoned, cut off, and isolated, in part due to my personality, and partly due to the environment I lived in. The spirits of my ancestors watched over me through the violence and trauma I witnessed, but I didn't know that then. The truth is that, in the not-so-distant past, a multitude of poor souls who bore the same blood as I do found themselves in the bel y of a slave ship. They held out with the hope that someone like me would show up one day and not waste the sacrifice of their captive life for a moment of self-serving opportunity. Despite my misdirected behavior, they helped guide me back to my Creator on a fateful December night. From the moment of that spiritual awakening, opportunities were presented to me like Christmas presents. I didn't take time to investigate them because they came wrapped in packaging that resembled books and magazines that were easy to ignore. I was a misguided warrior, uninterested in the pursuit of knowledge. Later, those Christmas gifts became precious items that ignited my journey to unearth my purpose, my journey of walking in the shadow of footsteps. 
As a kid, I always felt something was guiding my life and watching over me. In an unconscious way, that truth led me out of my adolescent confusion. Because of that, I feel a responsibility to my ancestors to make this world better by my presence here. Since someone was able to hold on and hold out in hopes that I would show up, I've done the same, and when I'm gone, my life wil be part of the continuum of the journey started generations ago. In everything I have done and been through, and in the work I do now, I realize the result is bigger than me. 
We are taught in the Western Hemisphere to think about self first. We pride ourselves on being "self-made," but no one truly reaches the destination of success alone. In other cultures and communities, it is about the whole, not the parts, the group, not the individuals, because within the group there is power. But power is not for self-aggrandizement. Power, instead, should be used to uplift the lowly, to shed light on the darkness, and to make right the wrongs inflicted upon the least of us. That can be seen clearly in this current moment, when a bridge between the old and the new way of leading change in our communities is at a desperate intersection. In fact, change and transition are a continuum, not a destination. From the Underground Railroad to the Civil Rights Movement to Black Lives Matter, I celebrate and honor all the advances made to further the causes of Black people, those living in poverty, and other rejected populations. 
Yet, the voices of the ancestors are cal ing for humanity to rise up and tap into our better angels. I accept the cal . 
When Michael Brown was kil ed in Ferguson, Missouri, in 2014, the people in that community protested for almost four hundred days. They brought light to the long-standing reality of Black men and boys being kil ed by police and the predictable and frustrating result of no charges being filed against the police officers. Their voices shed light on the disproportionate representation of white people in positions of power within local governments making decisions for majority Black populations. 
Eventually, the protests died down, the media pivoted away from it, and the rest of the country went back to business as usual, but CORE (Community Organized Relief Effort) and Black Lives Matter were committed. They worked behind the scenes to make change happen. The message of Black Lives Matter took off and gained global attention again in 2020 when the entire world was shut down and people all over the world were cooped up because of COVID-19. Stuck at home, they weren't distracted by all the other news and entertainment. At that time, they were antsy for something to do. 
When all the entertainment, sports, and other titil ating diversions were removed, people were forced to look in the mirror. By the summer of that year, they were at the starting line, ready for something to pounce on. They got it with the murders of Ahmaud Arbery, George Floyd, Breonna Taylor, and Rayshard Brooks. That's when the explosion happened and people got "woke."  I hope the modern-day movement towards civil and human rights has built the bandwidth to sustain its voice and its power. My fear is that the objectives of the protests become lost in the predictable apathy that engulfs a society in the aftermath of civil unrest. To prevent that kind of destructive outcome, people have to be wil ing to fight for their own liberation. As history has demonstrated, the fight for equality is an emotional endeavor that can be heart-rending and depressing. It takes a concerted effort and a level of dedication and longsuffering to see that commitment to fruition. Those who are in the fight from a righteous standpoint cannot concede. They must prevail. 
My role in this modern-day movement is to build an institution to be a positive influence in the community. That's what Pro-Vision represents. I don't have an overwhelming need to be heard, and I definitely do not need to be put on a pedestal or receive any accolades. But if somebody seeks me out and thinks I can add value to the discussion, I'll do what I can to make an impact. As the old folks say, "Talk is cheap." Actions speak louder than words when the conversation is about community enhancement and furthering the footprint of Black and disenfranchised people in this world. My goal is to fol ow through on the rhetoric and take action towards true, lasting, empowering change. 
Realizing my purpose was the beginning of my journey, the wake up. Living out my purpose has been a continuous process to clean up, stand up, and show up, resulting in enlightenment for me. The journey has not been easy, but it has been worth every step and misstep. Along the way, I have transcended my environment and become an active vessel of change for others. 
Taking agency back over my life has allowed me to put into perspective who I am, what I am, and what I should be doing with my time here on earth. 
My life has been like that of the prodigal son. I've experienced the good, the bad, and the ugly. I have left home, enjoyed the pleasures of life, found myself in a lowly state, and then realized my ancestors and my Creator had more in store for me. Thankful y, I found my way back home, back to myself. 
This reflection of my life is a snapshot of that journey. 
Fourth-grade play. Me with younger brother, Brian Young (right) 
About the Author
Throughout my life, I have had to eliminate the distractions that threatened to keep me from fulfilling my purpose, from childhood illness to witnessing violence in my youth, falling into the trap of drugs as a teen, and assaults on my confidence as an adult. Despite it all, I am living my American Dream, a life that pays homage to the struggles of the ancestors and builds a foundation for the continuum of healing and self-reliance for Black people and those who find themselves disenfranchised.
I have been around fame and I've been around fortune and people with it. Whether because of my humble upbringing or because of my experiences as a professional athlete in the NFL, the fame and fortune don't impress me. I remain focused on the power and freedom that come with being true to my purpose. The Creator has charged me with the responsibility of spreading the good news to the underdog.
Walking in the shadow of footsteps has allowed me to live my purpose, the reason I exist in this world, and to help others do the same.
This story of my life is my love letter to humanity.
– Roynell Young
Author Links
Purchase Link