Physics, Lust and Greed Series, Book 3
Humorous Science Fiction
Date Published: May 11, 2021
Publisher: Acorn Publishing
At every crossroads he has encountered in life, Sean Brody has made the safe choice. In the year 2046, at the age of ninety-three, Sean is given one final opportunity to deal with his greatest regret. Sean is the only man Marshall Grissom and Marta Hamilton can find who might be able to save Sheila Schuler, their friend and fellow traveler lost in the distant reaches of time. If Sean accepts the task of traveling to his childhood in a parallel universe—with no guarantee that any aspect of the past can be changed—Sean must also accept his death in the only world he knows.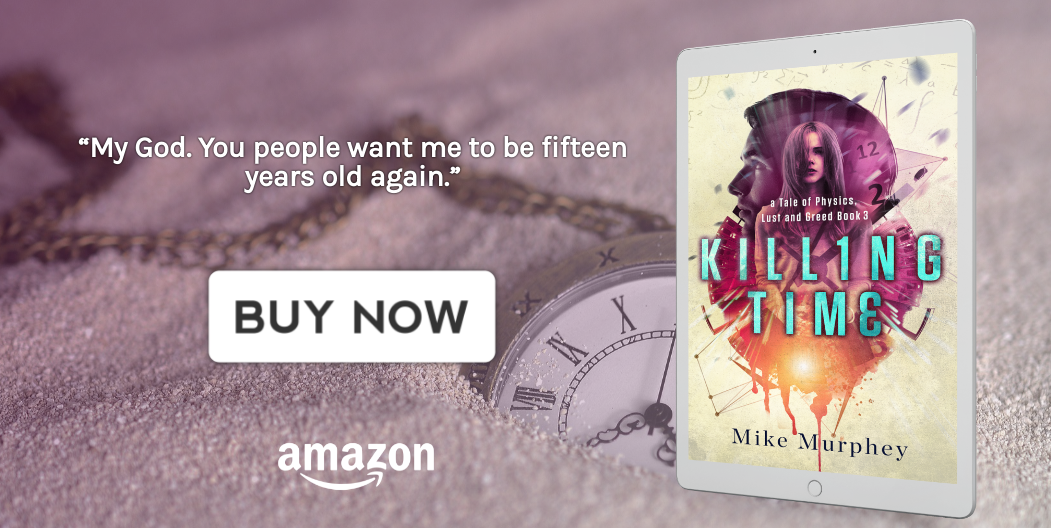 EXCERPT
That's when the horror began. Bizarre scenes flashed through Amanda's brain, crowding everything comforting and familiar off to one side. Each thread of this torrent was snapped by some vivid instantaneous image of people she didn't know, and a world she didn't recognize. Each image seemed to be swallowed by another as soon as it appeared. She saw herself, naked and terrified as a leering man reached for her. She saw—and heard—a stark, white empty space filled with voices. She encountered a parade of people she'd never seen before. But she knew their names—Marshall, Marta, Elvin, Gretchen, Naomi. Then she saw herself again. She tasted raw fear. She felt everything about herself slipping—no being dragged—away. She saw death reaching a skeletal hand to her throat.
Her face became a picture of abject fear. Her eyes darted wildly.
"Concussion!" shouted Miss Best. "Young lady, you must not go to sleep!"
With an aside to the rest of the class Miss Best added, "You must never allow someone who has suffered a concussion to sleep."
"Miss Best, shouldn't we call someone?" Joni asked.
Miss Best squinted at Joni and said, "Don't panic, Miss Miller. Right now, we have to call someone. Mr. Janson, would you please go to the office and tell them we need medical assistance in the chemistry lab."
Joni knelt next to Amanda.
Amanda felt an overwhelming darkness marching across her brain, taking pieces of her as it went. She was being strangled mentally. Now the darkness began to encompass her. She summoned her strength to make one, desperate plea. I . . . I am Amanda. Amanda Page. The blackness began to retreat. But this other pervasive presence, the other existence, remained.
"Amanda," Joni pleaded, "Amanda. Please! Tell me what's wrong!"
Joni's voice wove itself into the other voices and all the images thundering through her perception. She clamped her hands over her ears, squeezed her eyes shut and said with stark desperation, "There's someone in my head! Get them out! Please! Get them out!"
About The Author

Mike Murphey is a native of eastern New Mexico and spent almost thirty years as an award-winning newspaper journalist in the Southwest and Pacific Northwest. He left journalism in 1998 to form a business related to adult amateur baseball. At the age of 60, he stopped procrastinating and revived his life-long ambition to write a novel. He is author of Sections, an award-winning coming of age novel set in Eastern New Mexico where Mike grew up. He is also author of The Conman … a Baseball Odyssey, another award-winning novel. Killing Time is the third novel in his Physics, Lust and Greed Series. Mike splits his time between Spokane, Washington and Phoenix, Arizona where he enjoys life as a writer and old-man baseball player.
Contact Links
Purchase Link